Secret Blogging Tools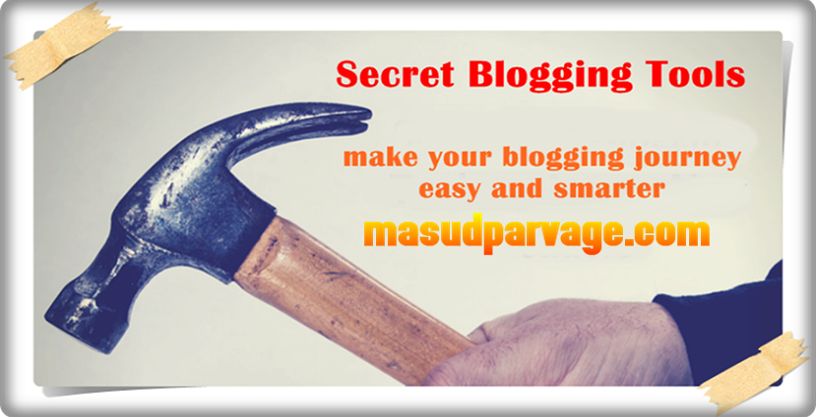 Hi Guys, if you are a blogger or internet marketer you must need to use some important blogging tools to become succeed. However I am going to share with you some Secret Blogging Tools which are strongly recommended by me and a lot of successful bloggers and digital marketers as well. Here's the list of my secret blogging tools:
a. 
Namemesh
This tool will help you to find a seo friendly domain name. You can choose a domain from their list easily.
b.  Nametumbler
It is another tool to find a domain name according to your keywords. No matter which kind of domain name you like.
a.
WordPress
There are a number of content management systems around the web. But if you think about the reliability, accessibility as well as user friendliness then wordpress can be your best choice. You may read this short article "Top three reasons to choosing wordpress".
If you think your business site should be fine and up time is near about 100% then below list is ok. Because you should not compromise your important decision about web hosting. However no any single hosting provider is 100% perfect at all the features. But in my web research you can choose any one of the list below as your website's hosting partner.
SL
Hosting Providers
Overall Performance
Site URL
01
Arvixe
a. support good
b. up time good
c. cost standard
arvixe.com
02
Bluehost
a. support good
b. up time good
c. cost standard
bluehost.com
03
Siteground
a. support good
b. up time good
c. cost expensive
siteground.com
04
Dreamhost
a. support good
b. up time good
c. cost expensive
dreamhost.com
05
Namecheap
a. support excellent
b. up time good
c. cost cheap
namecheap.com
N.B. You can find the coupons to get some discount on my Recommended Web Hosting.
When you choose a wordpress theme you should consider a couple of issue like:
The theme you choose is well coded or not?
Is the theme SEO friendly?
How's the theme provider's support to the users?
If your answer is yes; you can pick your desired wordpress theme without any hesitation. In my study I've found a couple of best wordpress theme providers. Here are some of them:
Keywords are the vital component of a webpage. So you must care the keywords you are targeting. To help your keywords research these tools might be helpful:
If you are a blogger, developer or online marketer you should use the tools below. These tools will help you in a number of ways.
When we are going to publish a new blog post then the title should be eye catching and unique. It'll be very effective to make a huge conversion or getting attention from the audiences. Below tools will help you to generate numerous stunning headlines.
These online tools are effective to find your grammatical mistakes from your articles. As a blogger or internet marketer, you should overcome the grammatical mistakes on your blog.
The most excellent solution to see advance information concerning your blog traffic as well as shows real-time traffic status of your blog.
Hootsuite
It is one of the best online tools for managing all your social media channels from a single and effective dashboard. You can control your facebook, twitter and google plus audience using this tool.
Bufferapp
This is the tool that will never let you social media profile run out of content. As well offers mobile app call every day, which let you add high-class content to your social media profiles.
Postplanner
This is another social media tool to boost your presence to your social media network. You may find your ultimate schedule posting solution here.
These tools can help you to grab the targeted leads/emails ID from different ages and locations. It's an important issue to your blog.
Email marketing is a big component of a successful blogger. Below tools can be the great solution
Whenever you need to change your IP, you can trust on InstantProxies. They have a lots of premium proxies around the world.
Conclusion:
Some of the above tools are tested by me in my several blogs. But the recommendations can change time to time. However, the tools I mentioned above are highly appreciated by the numbers of successful bloggers, developers as well as affiliate marketers. I believe these secret blogging tools can boost your blogging experience! If you consider these resource helpful; don't feel any hesitation to share it to your social media!